If your my newest
Follower
, Thank You, please leave me a comment with your blog URL and I will follow you back! Also check out this weeks Aloha Friday question below!
Aloha Friday:
Answer my question in a comment.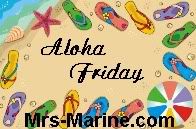 This Weeks Question:
What book are you currently reading?

A: I am reading the 6th book in the Vampire Academy series, "Last Sacrifice" by Richelle Mead.
What's Aloha Friday? It all started at An Island Life In Hawaii, Friday is the day to relax and take it easy. So, I take it easy on posting!
Vote daily for this blog:
Trisha